Call Today (706) 894-1919
157 Hodges Street
Cornelia, GA 30531
Posts for: February, 2013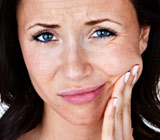 When it comes to chronic pain, one of the most common problems you can face is Temporomandibular Disorder (TMD), which was formerly known as Temporomandibular Joint Disorder (TMJ). TMD is a condition that can be tricky to diagnose because it frequently mimics other conditions. This is why many healthcare professionals refer to it as "the great imposter." However, regardless of what it is called, the pain it causes is real and can become quite severe — especially if left undiagnosed and untreated.
To grasp the condition fully, you must first understand the TMD pain cycle. It can start with any traumatic, psychological, metabolic, or mechanical stimulant that causes spasm in the muscles that move the jaw joints (opening, closing, chewing, and even smiling.) This is because of the constricted blood supply to the muscles resulting in less oxygen along with the accumulation of waste products. This is followed by chemical changes in the muscles and a buildup of lactic acid due to muscle fatigue. Abnormal or involuntary muscle contractions or spasms lead to pain signals to the brain that can stop muscle movement. Depending on the severity, this cycle can repeat itself resulting in acute pain that may be extremely severe at times. The pain may then seem to disappear only to resurface again later. The good news is that our office has highly trained professionals who cannot only diagnose but also treat your TMD.
If you suffer from chronic jaw pain and feel that you might have TMD, please let us know so that we can address your concerns and conduct a thorough history and examination. Or if you are in constant or severe pain, contact us immediately to schedule an appointment. You can learn more about the signs, symptoms, and treatment options for TMD by reading the article "TMD — Understanding The Great Imposter."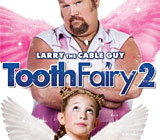 Did you know that severe tooth decay is America's #1 chronic childhood disease? Actress Brady Reiter didn't know either — until she became the star of the movie Tooth Fairy 2, and then joined forces with the National Children's Oral Health Foundation: America's ToothFairy®.
"Before, I didn't even realize what can happen to kids if they don't take care of their teeth," 11-year-old Brady recently told Dear Doctor magazine, after viewing photos of children suffering from severe tooth decay. "There are kids in America who don't know that it's important, or they just don't have the resources to be able to take care of their teeth or to go to the dentist."
This young Tooth Fairy knows just how magical — and vital to a child's self-esteem — a beautiful smile can be.
"When you feel bad about opening up your mouth and smiling, a kid's confidence just goes down the drain," she said.
NCOHF recently tapped 11-year-old Brady to head the America's ToothFairy Kids Club, which offers kids personalized letters from the Tooth Fairy along with lots of encouraging oral health tips and fun activities — free!
"I'm really excited to be part of it," Brady told Dear Doctor. "Kids learn how to take care of their of smile by joining this club. By supporting America's ToothFairy, we can help kids in need get dental care and have a healthy smile too. It's really amazing!"
While lots of kids get an occasional cavity, millions of children have tooth decay so severe that it interferes with their ability to eat, sleep, and concentrate in school. The good news is that tooth decay, a bacteria-induced infection, is preventable.
"When kids join the club, they learn how to prevent tooth decay. When families support this great cause, we can help kids in need. And that's what feels great — that we really can make kids' futures better."
If you would like to enroll your child in the club — it's free! — please visit www.AmericasToothFairyKids.org. And to make sure your child's teeth and your own are decay-free and as healthy as possible, please contact us today to schedule your next appointment.