Call Today (706) 894-1919
157 Hodges Street
Cornelia, GA 30531
Posts for: April, 2013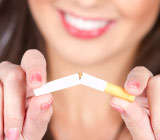 Oral cancer is not as uncommon as people think. In 2008 an estimated 34,000 cancers of the mouth and throat were diagnosed. In order to minimize your risk of developing oral cancer, be aware of habits that increase your risk.
Risk Factors for Oral Cancer include:
Use of smoking or chewing tobacco: Tobacco smokers have 5-9 times greater risk of developing this cancer than non-users; snuff and chewing tobacco users have a four times greater risk than non-users.
Excessive use of alcohol: Moderate to heavy drinkers at are 3-9 times greater risk than non-drinkers.
Exposure to sun: Chronic sun exposure is associated with development of lip cancers.
Certain viral infections such as the human papilloma virus that can cause cervical cancer in women can also cause oral cancer.
Compromised immune (resistance) systems that are not functioning properly can be associated with cancers.
Poor nutrition including diets low in fruits and vegetables can increase risk for all cancers including oral cancer.
Family history: People carry a predisposition in their DNA (the genetic material they inherited from their parents) for developing cancer.
Oral Cancers Can Mimic Harmless Sores
Early signs of oral cancer can mimic harmless sores that occur in the mouth such as canker sores, minor infections, or irritations that occur from biting or eating certain foods. Cancers in the lip area can easily be mistaken for harmless sores.
Early Detection is Key
It is important to have regular oral examinations to detect signs of oral cancer. Although 90 percent of oral cancers occur in people who are over 40, it is becoming more prevalent in younger people, particularly those who adopt risky behaviors: smoking, drinking and oral sex.
If you notice any unusual lesions (sores or ulcers), or color changes (white or red patches), anywhere in your mouth that do not heal within two to three weeks, come and see us and have it examined immediately.
Definitive diagnosis may require a small biopsy, the microscopic examination of a piece of tissue from the affected area.
It is important not to let a suspicious sore go unchecked. If detected and treated early, while a lesion or growth is small, survival rates can exceed 80 percent. Contact us today to schedule an appointment to discuss your questions about oral cancer. You can also learn more by reading the Dear Doctor magazine article "Oral Cancer."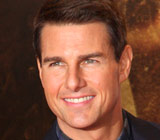 It's no surprise that plenty of teenagers go in for an orthodontic evaluation and come out wearing braces. But sometimes, an observant orthodontist may notice that an adult's smile could use a little bit of improvement, too. Even an adult like — Tom Cruise?
That's exactly what happened to the star of Top Gun, Rain Man and the Mission Impossible franchise. Cruise, then 39, was taking one of his children for orthodontic work when it was pointed out that the leading man's teeth were also out of alignment. So he opted for braces too.
"Yes, Tom Cruise has braces," said his publicist when the star appeared, sporting his new orthodontic appliances. "To him, it's no big deal." Cruise chose to get the relatively inconspicuous ceramic type, with only a thin wire visible in front of his teeth. He wore them for about a year and a half, having them temporarily removed when it was time to make a movie.
Ceramic braces are a popular choice among adult orthodontic patients, many of whom find that less noticeable orthodontic appliances fit in better with their personal or professional lifestyle. Clear aligners also provide a virtually invisible option. We can help you decide which appliance would best meet your needs. But the first step is a thorough evaluation of your periodontal health.
Is it Risky Business to get braces as an older adult? Not usually — but if you do show signs of periodontal disease, which is more prevalent in adults than teens, it's important to bring it under control before beginning your orthodontic treatment. There are also a few medical conditions, such as heart-valve disease, severe uncontrolled diabetes, and leukemia, which might preclude treatment.
For most people, however, orthodontics offers a great way to improve your appearance and boost your self-confidence — even if you're not a movie star. It is estimated that three-quarters of adults have some form of orthodontic problem; and studies have shown that orthodontic treatment can enhance an adult's career opportunities and social life.
So, if you're looking for a better smile at any age, don't hesitate to contact us or schedule an appointment to discuss your treatment options. You can learn more in the Dear Doctor magazine article "Orthodontics For The Older Adult."