Call Today (706) 894-1919
157 Hodges Street
Cornelia, GA 30531
Posts for tag: oral cancer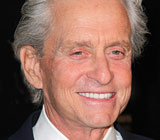 Actor Michael Douglas shocked TV audiences across the country when he announced on the David Letterman Show in 2010 that he has stage IV oral cancer. Fortunately, the cancer had not spread and his radiation and chemotherapy treatments were successful. This year, Douglas teamed up with the Oral Cancer Foundation to warn others about the dangers of the disease and the importance of early detection. In particular, he wants younger people to know that even if they don't smoke and drink a lot, as he admitted to Letterman that he did, they are still at risk.
As Douglas states in a PSA he made with the foundation, "the fastest growing segment of the people developing oral cancers are young, non smokers." That's due to a strain of the Human Papilloma Virus known as HPV16 that can be transmitted through oral sex. So it's important to avoid risky sexual behaviors and to be screened regularly for this devastating disease that claims one life every hour in the U.S., according to the Oral Cancer Foundation.
An oral cancer screening is a simple visual and tactile exam done right here at the dental office. We will feel your neck for lumps and inspect your lips and all inside surfaces of the mouth, including the back of your throat, for any suspicious signs. If any are found, a biopsy (laboratory analysis of a tissue sample) can be ordered.
Most oral cancers are "squamous" (small scale-shaped) cell carcinomas that occur in the lining of the mouth and are often preceded by recognizable changes (lesions) of the oral membranes. White or red patches begin to form in the pre-cancerous stage, and as the cancer develops, a non-healing ulcer may appear. If you notice any such changes in your mouth, please let us know.
Michael Douglas ends his PSA with the following plea: "So please, the next time you visit your dentist or your medical doctor, ask for this simple screening. Finding oral cancer in its earliest stages may save your life." We agree, which is why we always perform this screening during your regular dental check-up. If it's been a while since your last appointment, please come in and see us.
If you would like more information about oral cancer, please contact us or schedule an appointment for a consultation. You can learn more about the disease in the Dear Doctor magazine article "Oral Cancer."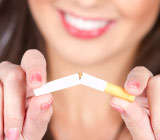 Oral cancer is not as uncommon as people think. In 2008 an estimated 34,000 cancers of the mouth and throat were diagnosed. In order to minimize your risk of developing oral cancer, be aware of habits that increase your risk.
Risk Factors for Oral Cancer include:
Use of smoking or chewing tobacco: Tobacco smokers have 5-9 times greater risk of developing this cancer than non-users; snuff and chewing tobacco users have a four times greater risk than non-users.
Excessive use of alcohol: Moderate to heavy drinkers at are 3-9 times greater risk than non-drinkers.
Exposure to sun: Chronic sun exposure is associated with development of lip cancers.
Certain viral infections such as the human papilloma virus that can cause cervical cancer in women can also cause oral cancer.
Compromised immune (resistance) systems that are not functioning properly can be associated with cancers.
Poor nutrition including diets low in fruits and vegetables can increase risk for all cancers including oral cancer.
Family history: People carry a predisposition in their DNA (the genetic material they inherited from their parents) for developing cancer.
Oral Cancers Can Mimic Harmless Sores
Early signs of oral cancer can mimic harmless sores that occur in the mouth such as canker sores, minor infections, or irritations that occur from biting or eating certain foods. Cancers in the lip area can easily be mistaken for harmless sores.
Early Detection is Key
It is important to have regular oral examinations to detect signs of oral cancer. Although 90 percent of oral cancers occur in people who are over 40, it is becoming more prevalent in younger people, particularly those who adopt risky behaviors: smoking, drinking and oral sex.
If you notice any unusual lesions (sores or ulcers), or color changes (white or red patches), anywhere in your mouth that do not heal within two to three weeks, come and see us and have it examined immediately.
Definitive diagnosis may require a small biopsy, the microscopic examination of a piece of tissue from the affected area.
It is important not to let a suspicious sore go unchecked. If detected and treated early, while a lesion or growth is small, survival rates can exceed 80 percent. Contact us today to schedule an appointment to discuss your questions about oral cancer. You can also learn more by reading the Dear Doctor magazine article "Oral Cancer."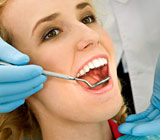 Let's talk about oral cancer. Yes, it's a scary subject — but the truth is, the more you know about it, the better able you are to protect yourself.
Who is more likely to get oral cancer? Because of your genetic disposition — heredity — men are twice as likely to develop oral cancer as women. African-Americans have a higher incidence than Caucasians. The disease is also related to aging, although in recent years many young people have been diagnosed with this disease.
Are some habits related to development of oral cancer? Risk factors include use of tobacco in any form, both smoking and chewing, chronic exposure to sun, and consumption of alcohol. Moderate to heavy drinkers have a three to nine times greater risk than non-drinkers. Tobacco smokers are at five to nine times greater risk than non-users, and users of snuff or chewing tobacco are at four times greater risk than non-users.
Where do most oral cancers occur? The most common areas are in the mouth itself, the lips, the tongue, and the pharynx (back of the mouth and throat).
What are the statistics for survival after treatment for oral cancer? Conquering cancer depends most on early detection. Since most cases of oral cancer are discovered at a late stage, survival is poor, with less than 60% surviving five years after treatment. When oral cancers are detected early, the survival rate is more than 80%.
What are some of the symptoms of oral cancer? Most oral cancers are "squamous" (small scale-shaped) cell carcinomas in the lining of the mouth. Signs of these cancers can be seen as white or red patches in the early pre-cancerous stage. These develop into an ulcer that does not heal.
When should you seek medical help? If you notice color changes (white or red patches) or sores or ulcers anywhere in your mouth that do not heal within two or three weeks, go to your dentist for a checkup right away. Sometimes the sores resemble cold sores. A definitive diagnosis requires a tissue biopsy, in which a small piece of tissue is removed under anesthesia and taken to a lab for microscopic examination.
What about regular routine examinations? An oral cancer examination should be part of your visit to our office. We will inspect your face, neck, lips and mouth for signs of cancer, feel the floor of the mouth and sides of the neck for any lumps, examine your tongue and the back of your throat. The American Cancer Society recommends a cancer related check-up annually for all individuals aged 40 and older and every three years for those between 20 and 29.
Contact us today to schedule an appointment to discuss your questions about oral cancer. You can also learn more by reading the Dear Doctor magazine article "Oral Cancer."